Support Wireless CarPlay and Android Auto
Regular price
$189.99 USD
Regular price
Sale price
$189.99 USD
Unit price
per
Sale
Sold out

Free Shipping

60-Day Returns

Price Match Promise
Share
Inclusive of all taxes, delivery time (estimated) 7-14 working days
Wireless CarPlay & Android Auto
The Mirror Dash Cam allows the device to wirelessly connect to your phone via Bluetooth. Integrates core in-vehicle applications from the phone, such as navigation, music, phone calls, and messaging, into the streaming media through the protocol, allowing the device to instantly have more extended functionality.
4K Vision World More Clearly
The Mirror screen built-in 11.26-inch display, with 3840 x 2160P 4K ultra high definition, up to 8 million pixels, to achieve true 4K UHD resolution. The high-resolution display can clearly show the content of cell phone interconnection, and also can clearly show the real-time image screen of streaming media.
Dual Recording Split Screen Display
The dashcam has two high-resolution cameras, equipped with a 4K Front Camera + 1080P Rear Camera, front and rear video can be split-screen display at the same time, double protection, guard your driving safety.
2 cameras display a 1:1 ratio in full screen

Front/Rear camera, Carplay display in full screen
Mobile App Interconnection
Mobile App Connect features in-app video download and live view, so you can view, download and save videos captured on the dashboard in real-time by connecting to the APP local Wifi. No cellular data is consumed in this process.
Loop video Recording
When this function is turned on, the memory card is full and the oldest video will be overwritten automatically by the newly recorded video without any operation.
It supports up to 128G cards and automatically overwrites the previous video to continue recording when the memory is full. Please use SD10 class or above card.
Time-Lapse Video Recording
The time-lapse function records 24 hours of continuous time-lapse video at important moments to help you capture beautiful images. You can check and view the video back at any time, and what's more, you won't have to format the memory card as often.
Note: This function requires a step-down cable to use, which has been equipped for you free of charge
External GPS Module
The External GPS module can also accurately record your driving track through the Global Positioning System. You can view your speed, coordinates, and map tracks in detail.
The global standard time provided by the GPS satellites can be used to calibrate and adjust the time of the device in the car so that events can be accurately time-stamped.


Wireless FM 
Mirror Dash Cam connects to the player via an FM transmitter, you need to adjust the FM of the Dashcam and the FM of the car player to the same channel to synchronize the audio. 
170° Degree Wide Angle Lens
Equipped with a 170° ultra-wide field of view, providing a wider viewing angle and minimizing blind spots, you can better capture the action on both sides of the car. Make your travels more assured and safe.
Super Night Vision
 

& WDR Function

Advanced image processing algorithms are used to analyze and enhance images in real-time on rainy days or low light at night, making the images clearer and more detailed.

The wide dynamic range processing technology can automatically adjust the exposure balance, enabling the camera to capture high-definition images.
265 Coding & Compression Tech
Adopt the upgraded H.265 video coding scheme, Compared with H.264, it saves more than 30% storage space and can record more videos. Take 64G built-in storage recording time as an example.
G-Shock Sensor
3-Axis G-Sensor senses sudden acceleration, braking, and collisions in order to automatically capture and protect critical footage surrounding an accident. Through this function, the important files won't be removed by loop recording.
24H Parking Monitoring
When someone near your car or vehicle starts to move, Automatically turn on and start recording when detects any impact or collision, the device automatically
automatically recording for a few seconds, make sure 24hr Parking Guard.
Astern Auxiliary Line
In Auto Reverse mode, it switches to the Reverse Camera Backup Reference Line with Parking to ensure your reversing is safer and smoother.
Comprehensive Functionality
Product Parameters
What's in the Box?
1* Screen with camera, 1* Car charger, 
1* GPS cable, 1* ACC cable, 
1* Rear camera with a cable,  1* Bandage, 
1* Rear camera sticker, 1* User manual,
1* Pair of screws (Note: Not include TF card)
View full details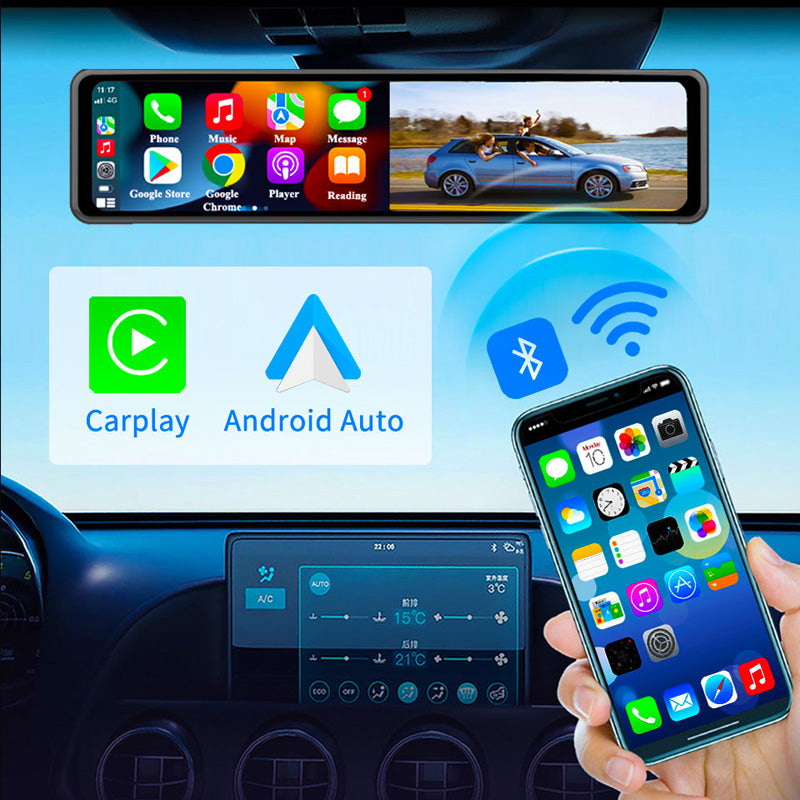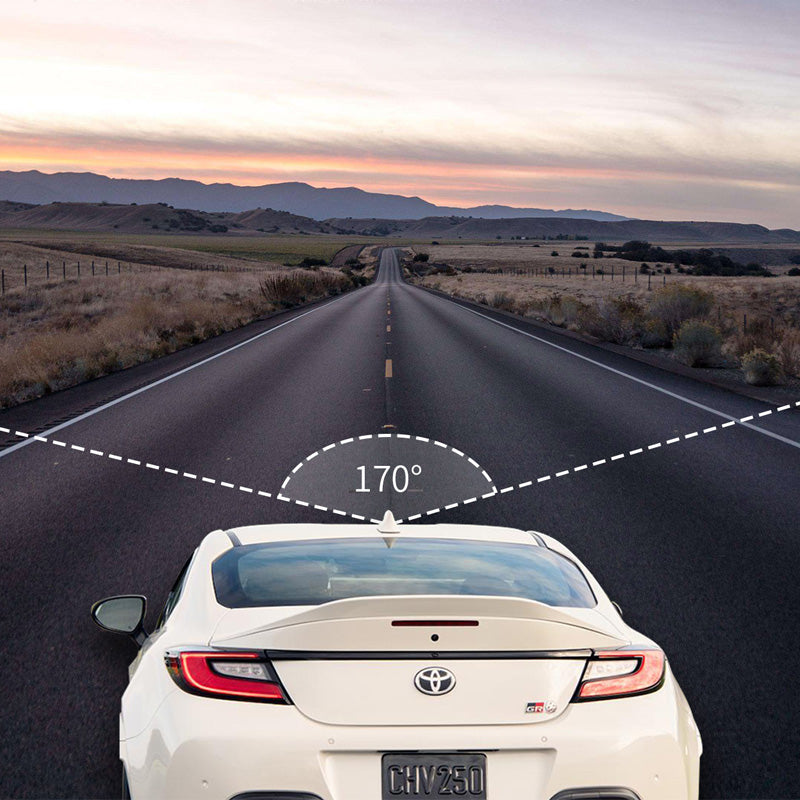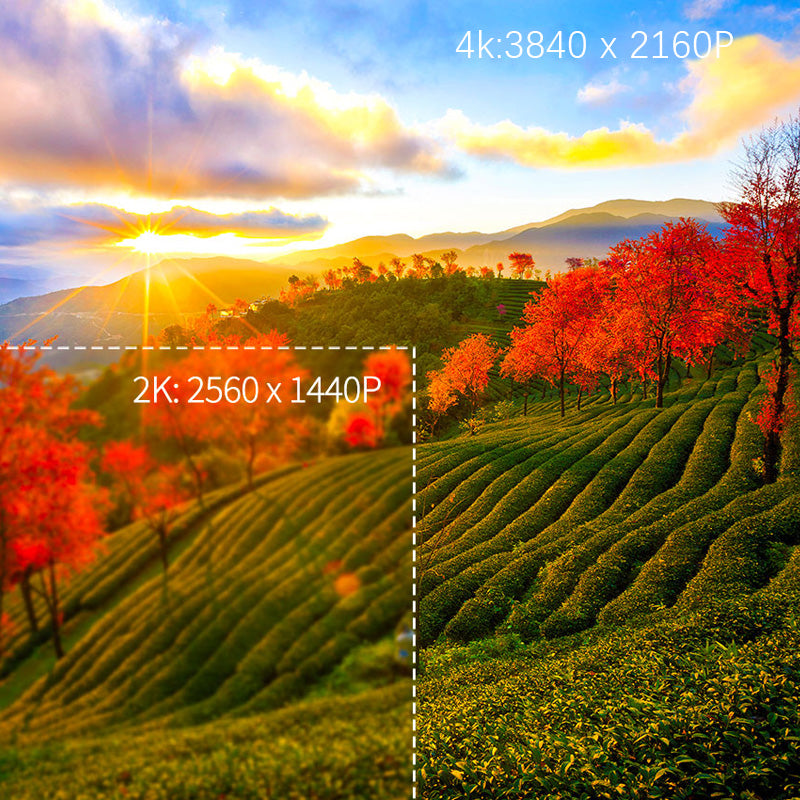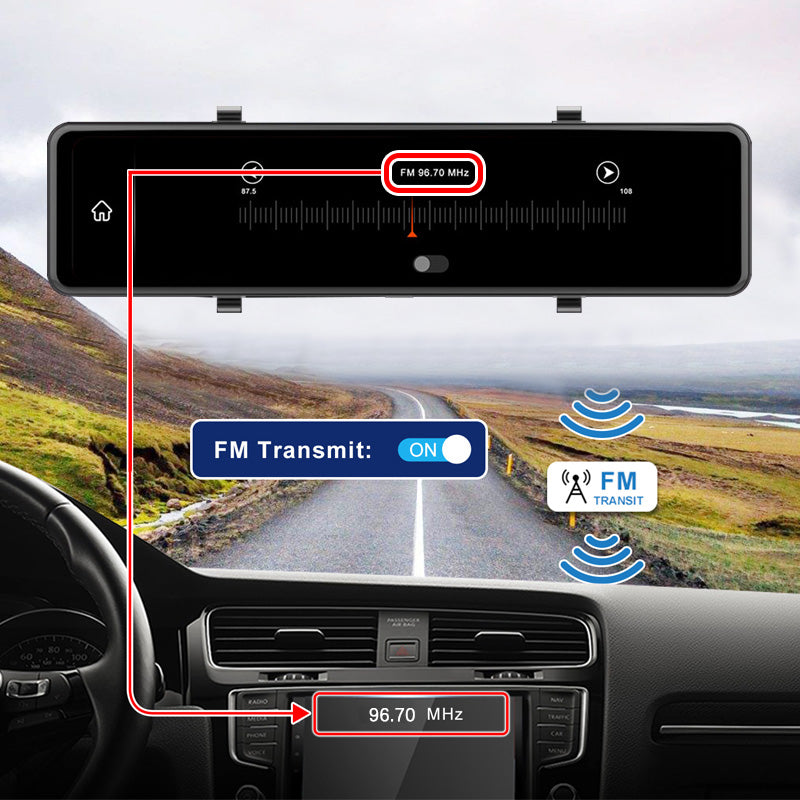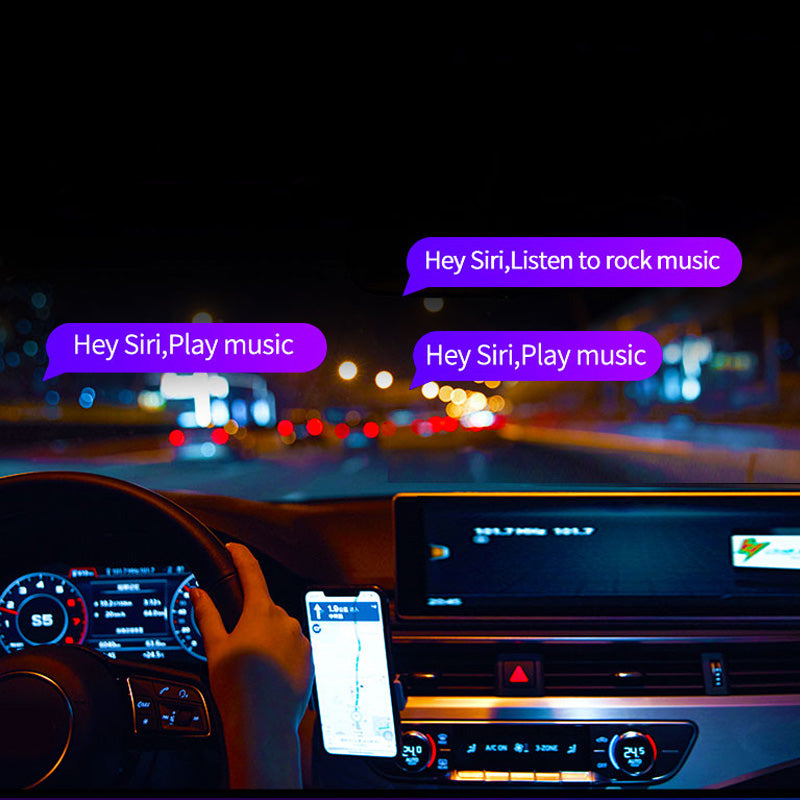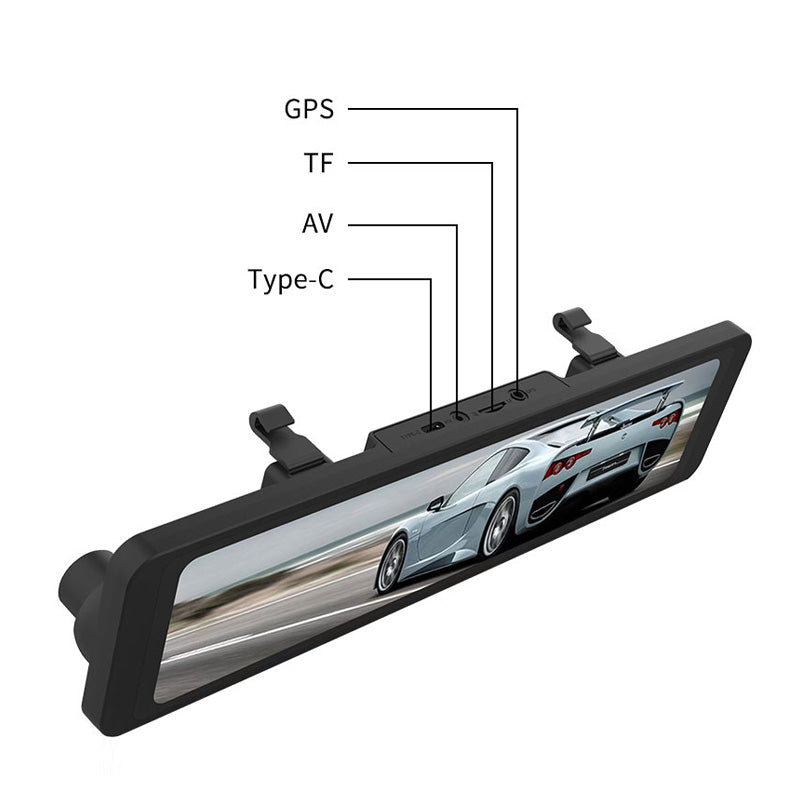 Shipping Policy
Processing Time
Before the shipping, please allow us 1-2 working days for processing your order. (Public Holidays/Weekends excluded)
Processing time may be delayed if your shipping address is questionable and your order is flagged as a risk (we use this additional time to help ensure the security of your credit information). 
Shipping Details
You will receive the first email notification of the shipping details once the parcel has been shipped.
The tracking number will be sent out to your email 1-2 working days after you received the first notification email.
Methods, Delivery Time & Tax
We provide FREE shipping 
service
, details as below:
| | | | |
| --- | --- | --- | --- |
| Location | Tax/ VAT | Cost | Delivery Time (estimated) |
| United States | No Tax/No VAT | Free | 7-14 working days |
| Canada | No Tax/No VAT | Free | 7-14 working days |
| India | No Tax/No VAT | Free | 7-14 working days |
| Australia | No Tax/No VAT | Free | 7-14 working days |
| Italy | No Tax/No VAT | Free | 7-14 working days |
| Switzerland | No Tax/No VAT | Free | 7-14 working days |
| France | No Tax/No VAT | Free | 7-14 working days |
| Spain | No Tax/No VAT | Free | 7-14 working days |
| Sweden | No Tax/No VAT | Free | 7-14 working days |
| Norway | No Tax/No VAT | Free | 7-14 working days |
| Greece | No Tax/No VAT | Free | 7-14 working days |
| Puerto | No Tax/No VAT | Free | 7-14 working days |
We usually deliver the items to the destination through the local post office (Such as USPS, Canada Post and

Asendia

).
Tracking
We recommend that you register an account on our website to 

keep track of your order.

Parcel Tracking Site: https://www.17track.net/en. (It usually delays 1 - 3 days to sync the tracking information before uploading to the internet.)
If you do not live in a secure location please be wise about the shipping method you chose as standard mail couriers will not require a signature and packages will be left and any "secure" location deems fit to the mail carrier.

We are not responsible for the incorrect address entered by you as the customer.
A restocking fee will be charged if you do not claim your item and it is returned. The charge will be 15% of the total charge per item.
If you have any questions, please CONTACT US.
Dash cam with Android Auto
It is working as promised, You need some expert to install rear camera and hide wiring. Android auto was not working in my mobile but started working when connected the phone with attached USB port ( wired Android)but later connected with another phone and Android auto started working. Wifi connection and video downloading worked as instructed.
Screen has good display resolution. Recorded video was also good. I am unable to find setup mode that we get when power on dash cam during normal display, FM mode is tricky to setup but I will try again.
Over All good product worth money.
Works Perfectly
This device works really well. The quality is super high. The cameras take really clear videos, and the sound is amazing when you plug it in with an aux cable.
Excellent Product HIGHLY RECOMMENDED!
Absolutely Love My Dashcam! Works Flawlessly, Easy Install, Excellent System, Excellent Customer Support Highly Recommend You Get One! Don't Hesitate!
Excellent Mirror Dash & Rear Camera!
I'm impressed by the solid build quality and the installation was very easy. I found that the touch-screen was very responsive plus the HD video quality is excellent, also their customer care support is terrific. I would highly recommend this product.
Awesome product
I LOVE wireless Android Auto. My previous vehicle was wired only, so to get in the truck and automatically come on is really nice. I've used both Google Maps and Waze, which have worked flawlessly with no hiccups.